Unit History Information
for 1/52 INF
For date 690303
1/52 INF was a US Army unit
Primary service involved, US Army
Incident reference: 69030352.KIA
Quang Tin Province, I Corps, South Vietnam
Location, LZ Professional






Description: The following is an edited extract [edited by Les Hines, Americal Division Veterans Association Vietnam Historian--thank you, Les.] from the S2/S3 Journal from the 1st Battalion, 52d Infantry, 198th Light Infantry Brigade, 23rd Infantry Division, whose Tactical Operations Center (TOC) was at LZ Professional.

Journal item 15, 3 Mar 69: at 1112, A/1/52 located vicinity BT148112 engaged unknown number of enemy vicinity BT159109 with small arms fire at that time friendly casualties were 3 US WHA. At 1115 requested urgent dustoff with gunships plus an additional set of gunships from Brigade. At 1135 A Co receiving incoming mortars, 60mm, from vicinity BT145105, arty firing from Tien Phouc. At 1245 gunships on station. At 1309 dustoff in an attempt to extract wounded was shot down. No casualties to the crew. At this time total friendly casualties were 2 KHA, 7 WHA, 1 heat casuality. At 1348 gunships and fighters putting ordinance into vicinity BT145105, 159109 At 1401 air strike going into vicinity BT145105. At 1548 dustoff going in for extraction of WHA. At 1557 dustoff complete. At 1558 LTC Stinson wounded in the leg while resupplying A Co. LTC Stinson died of wounds going to LZ Baldy.

Comments from Les Hines, Americal Division Vietnam Association historian: LTC Stinson had borrowed the C&C helicopter from COL Tulley. The helicopter was crewed by A/123rd Avn Bn (1st Flight Platoon). No damage on the helicopter or anyone else. SGT Smith recalled that they were carrying out dead and wounded. LTC Stinson was holding onto a body so it wouldn't fall out when he was hit. The helicopter tail number was 66-16737).

Journal item 35, 3 Mar 69. Journal Summary: Operation Summary: The 1-52 Inf continued security, fire support and offensive operations in the Oregon AO. A Co departed their NDP at 0730 searching BT149107, 153109, 156108, 158108. A Co closed NDP at 1700 BT148112.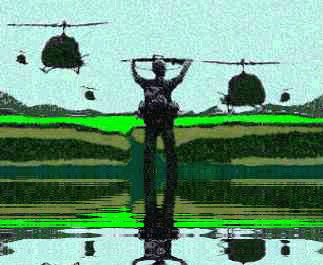 "Cold LZ, Quang Tin Province" © 2000 by William Cox
What Happened?
Captain Yeatts (CO) and 1st platoon made first contact with the enemy that morning and were cut off from the rest of the company (weapons, 2nd & 3rd plts) in that engagement. Because of this, Colonel Stinson gave me command of the remainder of the company immediately prior to our being attacked at my (A Company's) position. With the Colonel's help over the radio from his C & C over the battle zone, I directed A company's defense/offense in this engagement, including ground & air [helo gunships & air strikes] responses, as well as the medevac operations on the ground.

The NVA shot the tail rotor off the first medevac chopper attempting to extract our wounded and it nearly crushed me when it crashed very suddenly--I survived by rolling out of the way into the paddy at the edge of the LZ at the last instant.

We had just gotten our wounded out on the second attempt, second chopper, when the Colonel came in with the ammo in his borrowed C & C. I'd sloshed back into the muddy water at the edge of the paddy just outside our perimeter and, with the aid of a volunteer, handed up our 2 dead to the Colonel, one at a time, while the pilot hovered the airship at the edge of the open paddy. The Colonel's chopper was a sitting duck in this situation, as both medevacs had been.

We heard the enemy .51 cal MG fire directed at the chopper as it withdrew. The volunteer and I had just made it back inside our defensive perimeter with the Ammo when I heard the Colonel was hit.

Colonel Stinson's C & C choppers often took hits [as evident in the unit logs] picking up wounded or dead, or delivering supplies, or searching out and engaging the enemy with his chopper's doorgunners. The day prior to my arrival at LZ Bowman, 31 Dec 68, for example, LTC Doc Stinson's C & C bird made the only kills in the 1/52d Inf--twice spotting & engaging VC near LZ Professional, killing 3 each time.

Colonel Stinson was already carrying 3 bullets in his leg from his first Vietnam tour, as an advisor in 1962, when he was killed commanding the 1/52d Inf in the engagement noted above. His "hands on" style maximized readiness and availability of resources to units of the 1/52d Infantry when enemy contact warranted support in the field, either supplies, or helicopter or fixed-wing gunship support, or jet air strikes with bombs, or an air combat assault of supporting units. From my personal recall of the Colonel, I think it likely a matter of principle, a deeply held private conviction about what's right, that led this much experienced, decorated and wounded senior warrior to share the risks of battle directly with the soldiers he commanded. He was always a visible presence on our battlefields. He demanded success when we met the enemy, and he often demonstrated for us, over the battle zone and delivering supplies and extracting wounded, the courage needed to achieve success in our fights. Colonel William "Doc" Stinson, Jr., was a dedicated, compassionate, courageous, and hard fighting soldier whom I shall always greatly admire, and personally mourn.